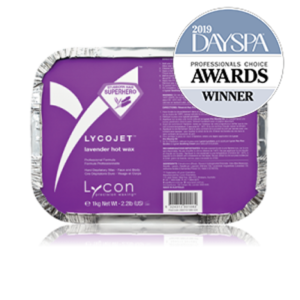 LYCON is proud to announce our very own LYCOJET Lavender has won DAYSPA 2019 Professionals Choice Award under the Hair Removal category. We are greatly honoured to be voted by hundreds of spa professionals as their favorite hair removal products.
Featuring a Majestic purple in colour along with the soothing ingredients of lavender and chamomile, LYCOJET Lavender is one of LYCON's stubborn hair superhero waxes. This high-performance wax removes stubborn hairs as short as 1mm along with all fine hairs other waxes may miss.
Thank you to all of our supportive LYCON lovers who voted. We are so proud to continue to be Australia's #1 wax worldwide!
Happy LYCOJET Waxing!